Financial Forms
As a Registered Student Organization, SOMeCA provides an organization account for financial operations. Please review the Financial Forms Timeline and Commonly Used Vendors along with the subsequent forms for more information on how to access the Organization's funds.
These forms may be submitted to your respective SOMeCA Office. Please be advised that these forms will require Fiscal Review and Advisor Authorization as part of the Fiscal Protocol.
---
Please review this list of vendors that have filled out a 204 Form and are already in the CruzBuy Purchase Request System. These are frequently used vendors and goods/services may be secured from this vendor via a Purchase Request. 
Please be advised that this is not a complete list of vendors, contact your SOMeCA Office or soar@ucsc.edu to inquire if a particular vendor is in the system.
---
This is a University form, it's
not
a SOMeCA form! This form allows for an individual to be put into the University system in order to be able to do business with them.
Process
The 204 Form is available through the University's website. You will be filling out this form through DocuSign.

You will be prompted to sign into your UCSC Gold password account.

An email will be sent to your "@ucsc.edu" account in order to fill out the form.

Sign in, fill out the form, and submit.

The University will send you an email when this form is complete.
Notes
Visit the "Commonly Used Vendors" to see the vendors that have already filled out a 204 Form in our "Commonly Used Vendors" section.
---
Timeline for Purchase of SERVICES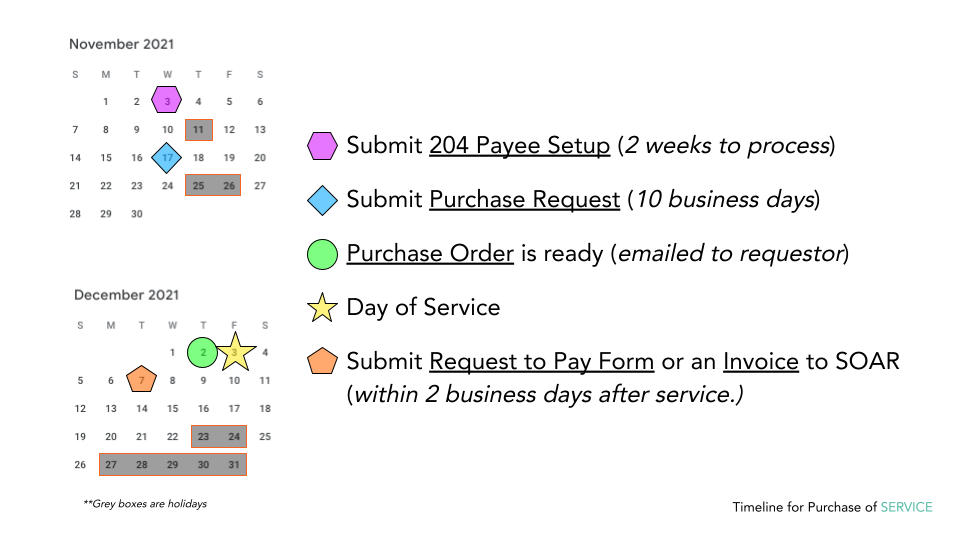 Timeline for Purchase of SUPPLIES
This form serves as an agreement from your organization to spend org money on Supplies or a Service. We do not give organizations cash, a check, or a credit card to purchase items. Instead, this request creates a document called a Purchase Order that serves as a promise to pay from the University to the vendor.
Process
The purchase request form will be submitted online using DocuSign.

Submit a supplies request 5 business days prior to your shopping.

Submit a service request 10 business days prior to the service needed, and you have to attach a quote.

SOAR will send you an email when the purchase order is completed.

After your shopping, please turn in a receipt through email to SOAR (soar@ucsc.edu)

At the end of a service, please submit an invoice or a Request to Pay Form to SOAR (soar@ucsc.edu)
Notes
Don't have a service begin until you have a purchase order.

Don't ever sign a quote. If you sign a quote, you pay the quote, not the University.

Please see the timeline and options to reassign a signer. 
For food requests, please meet with your SOMeCA Advisor.
---
Timeline for REIMBURSEMENTS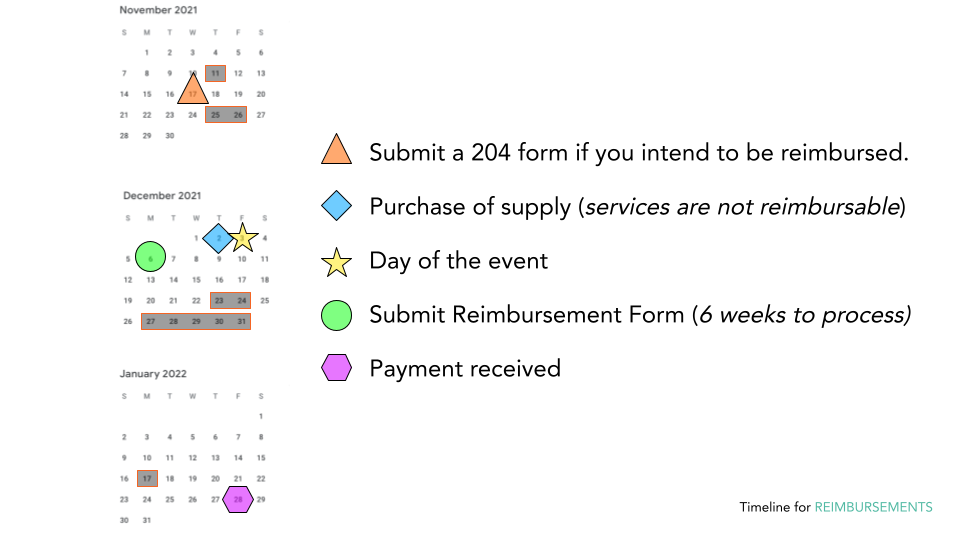 This form is an agreement that captures the amount to give back to a person when they made a purchase with their own money for the organization.
Process
Submit a 204 Form if one isn't on file.

The reimbursement form must be submitted online using DocuSign no later than 14 days after the event.

Payee information will be asked on the form along with a signature needed from an Authorized Representative of the organization. Don't self-reimburse. You will need an Authorized Representative to approve this reimbursement. If the Payee is an Authorized Representative, then another signer will need to approve this request.

A scanned receipt or invoice must be uploaded to the Docusign with the following information:

Vendor name

Vendor contact information (if not present on receipt, attach business card)

Itemized

Indication of payment and/or balance of "$0.00"

If there is an individual named on the receipt or invoice for billing, that individual must be the payee.

An email confirmation will be sent when SOAR has received a completed reimbursement request.

Items must be reimbursable expenses (services are not reimbursable)

Event proposal must be on file for all event-related expenses.

Event proposal must authorize the serving of food for all food and beverage expenses.
Notes:
Don't pay out of pocket for services. The University can't reimburse you for services. 

Please see the timeline and options to reassign a signer. 

A reimbursement takes up to 6 weeks to be received.

A document clarifying what expenses are and are not reimbursable can be found here. Contact your SOMeCA office if you are unsure whether an expense would be reimbursable.

Examples of receipts that meet the requirements as listed above can be found here.
---
RSO Authorized Representative submits a request to view the organization ledger to the SOAR email (soar@ucsc.edu) from their personal "@ucsc.edu" account. The email will serve as the authorization to review. SOMeCA fiscal staff reviews the request, sends a confirmation receipt, and attaches a spreadsheet of the organization's financial transactions.
Allow 2 business days for processing.
Notes
Non-Authorized Represnetatives cannot request ledgers.
---
Travel
Contact your SOMeCA advisor for any travel-related matters. Visit our Glossary for more information.
---
Fundraisers
Please contact your SOMeCA advisor if your organization is planning on having a fundraiser.  
---
Internal Transfer
Contact your advisor to submit a transfer of funding. Internal Use: DocuSign TOE Form