Students With 
Agency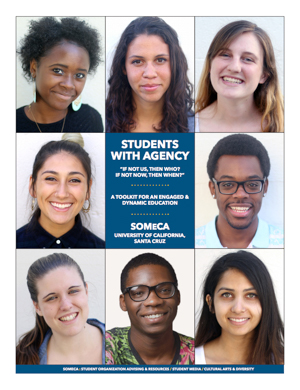 Leadership Toolkit
Transformative leadership — leadership that changes the world — emerges when students are empowered with the skills and opportunities to assess and address the needs and issues their communities face. With these tools, students can transform the world. Find out more here!
Watch»
Upcoming  
Events
May  17

May  19

39th Annual Multicultural Festival

May  21

Jun  8

Last day to submit financial requests
STUDENTS AT 
THE STATE CAPITOL
Students and staff of SOAR/Student Media/Cultural Arts and Diversity (SOMeCA) met with Senate Majority Leader Bill Monning and Senate President Pro Tempore Kevin De León in the state capitol to present a diversity project that received one-time state funding through the UC Office of the President.
The funds were part of a package of initiatives proposed by De León and approved by state legislators to address issues of access and student success for low-income students and students from underrepresented minority groups.
SOAR 
Resources
Below are links to different resources used by SOAR Organizations:
Media 
Resources
Below are links to different resources used by Student Media Students:
Cultural Arts 
Resources
Below are links to different resources used by CAD Students: