Students With 
Agency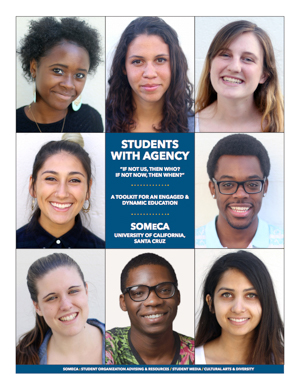 Leadership Toolkit
Transformative leadership — leadership that changes the world — emerges when students are empowered with the skills and opportunities to assess and address the needs and issues their communities face. With these tools, students can transform the world. Find out more here!
Watch»
Upcoming 
Events
May  20

May  25

May  26

Jun  9

Last Day to accept financial paperwork
Dinner With 
Alumni


Dinner with Alumni
Calling all LEADERS! The SOMeCA SUMMIT is here!
In collaboration with students, staff, & alumni, this year SOMeCA is providing a full day conference with workshops followed by our evening "Dinner with Alumni." 
Join SOMeCA for another amazing conference connecting student leaders past and present as we engage in principles and practices of Agency.
Summit 10:30 a.m.   Dinner 6:00 p.m.
Checkout the alumni workshop facilitators!
Watch»
SOAR 
Resources
Below are links to different resources used by SOAR Organizations:
Media 
Resources
Below are links to different resources used by Student Media Students:
Cultural Arts 
Resources
Below are links to different resources used by CAD Students: